Banco Santander went to the Superior Court of Justice (STJ), so as not to have to reopen the account of the Bitcambio cryptocurrency brokerage, based in Niterói. In the first and second instance, the bank had already received a determination to resume the account of the brokerage.
The Tribunal de Justiça do Estado do Rio de Janeiro concluded that the blocking of the power supply for the closure was carried out without prior notification to the company, without observance of a reasonable term and without presenting reasons.
The judgment of origin maintains the decisions that will determine that the person refrains from making the closure of the bank account of the author company, with a sentence in fees of R$ 2,500.00.
Dissatisfied, Santander went to the STJ to keep track of the company locked up in the case that was being analyzed by Minister Marco Aurélio Bellizze.
Since 2020, Bitcambio itself publicly accuses Santander of failing to comply with judicial decisions.
Santander must reopen account of cryptocurrency brokerage Bitcambio
Citar Tech is the company responsible for Bitcambio, PagueComBitcoin and Opey and has been in the Brazilian cryptocurrency market since 2013.
In 2020, he had his account locked up by Santander and was able, in the justice of Rio, to reopen his account in preliminary decisions. Since then, the Spanish bank, through its division in Brazil, has gone to keep the account closed.
No STJ, a decision obtained by Livecoins at the beginning of June 2023 defines that Santander must reopen the account of the cryptocurrency broker, given that it did not notify the institution in advance that its account would be closed unilaterally.
In decision, it is worth remembering, help other cryptocurrency brokerages with accounts locked up in the country, given that in recent years several banks have acted against exchanges.
Brokerage has delayed payments from some clients
The curious situation also involves Bitcambio, which went through account violations, has also received accusations from clients that suggest a possible banimento without notifications.
In a statement sent to Livecoins, two affected clients allege that since July 2022, they have not been able to access their balance at the brokerage. He still declared on channel [email protected] that he had part of the money in Real travado several months ago.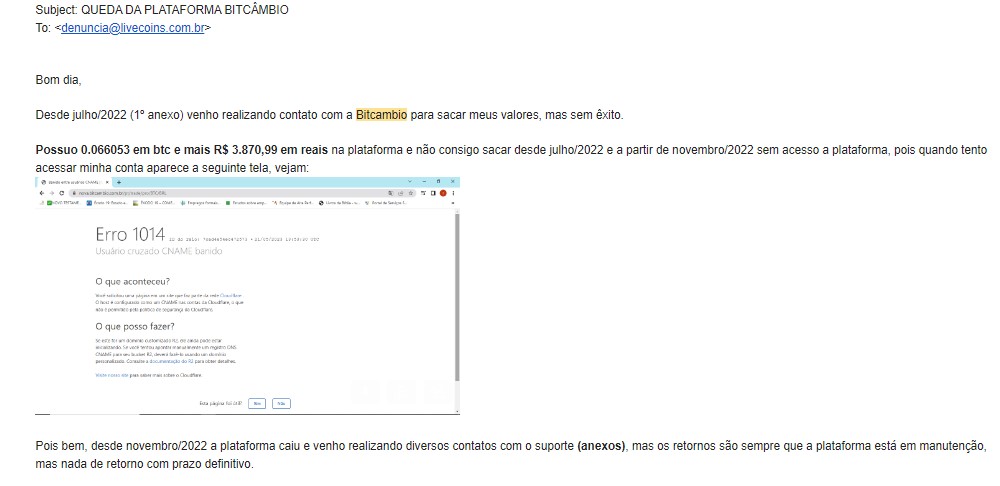 In May 2013, the client claimed that R$ 13 thousand was stuck on the platform, which he was informed as soon as it was still unforeseen for its normal operation.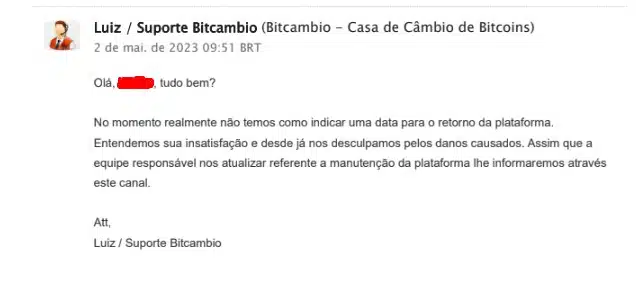 Hair Claim Here da Bitcambio, other clients complain that the platform has been in maintenance for months. No meanwhile, the complaints will not receive responses from the broker.
O Livecoins procurações con a Bitcambio, mas no obteve respuestas ate o datomento de esta matter. Material is in update.

reference: livecoins.com.br